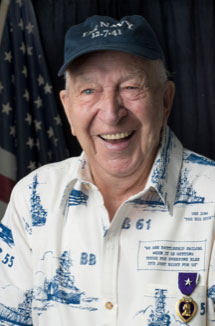 Lauren Bruner was a Crew Member and the Second to the Last to Leave USS Arizona during the Attack on Pearl Harbor. He was wounded twice by machine gun fire from an enemy aircraft and burned over 73% of his body when his ship exploded, killing in an instant 1,177 of his fellow crew.

Throughout his life, he never talked about the Attack on Pearl Harbor or the sinking of his ship as the memories throughout his life remained so raw.

Ten years ago, he met Ed McGrath, who became his closest friend as something between the two friends just "clicked" and the floodgates of Lauren's Memories were opened, resulting in the book Second to the Last to Leave USS Arizona - Memoir of a Sailor. To all who read it, it gets rave reviews and is the #1 Best Seller at Pearl Harbor and was chosen to be offered at the US Naval Academy to men and women who will lead America's Navy into the future.

Of all the crew of USS Arizona, all 1,512 men, there is no other Crew Member who has done more to honor his ship nor its crew than Lauren, both in life and now in death.

In 2015, the Lauren F. Bruner USS Arizona Memorial Foundation was established by Lauren in order to help preserve the history and memory of Arizona's crew, and it is for this reason you are being asked to consider joining Lauren in what he calls his "Dream Gift to America," which is quite simply the researching of photos of every Arizona crew member and then having a professional portrait artist draw each man as he looked on the morning of 7 December 1941.

Thank you for your consideration in helping to make a Dream Gift to America a reality to share with future generations.





The Lauren F. Bruner Foundation honors and preserves the legacy of the USS Arizona crew through education, providing aid to Navy and Military families throughout the State of Hawaii, and preservation of the USS Arizona Memorial.


"Our mission is to help honor the crew
of USS Arizona for future generations."

Copyright © MMXX Lauren F. Bruner USS Arizona Memorial Foundation. All rights reserved.